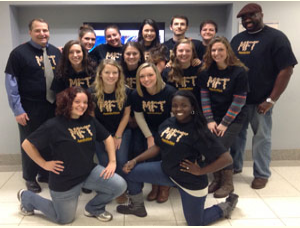 The objective of the Marriage and Family Therapy Program in the Department of Human Development and Psychological Counseling is to provide clinical and academic training in marriage and family therapy to master's degree level students who are committed to extending the practice and knowledge-base of MFT. The goal is to train students who will function at the highest level of clinical competence. The Marriage and Family Therapy Program at Appalachian State University is accredited by the Commission on Accreditation for Marriage and Family Therapy Education of the American Association for Marriage and Family Therapy, 112 South Alfred Street, Alexandria, VA 22314-3061.
Admissions
Limited enrollment is available.
Application Due Date
February 1 and continuing until all spaces have been filled. In-person interviews happen in early spring each year for fall enrollment.
Admissions Criteria
Departmental Questionnaire completed
In Person Interview
Departmental MFT Admissions Committee approval
Students who meet the general graduate school requirements are considered for admission into the Marriage and Family Therapy Program by the Admissions Committee. The committee is comprised of the MFT Program faculty. In reaching admissions decisions, the committee considers GPA, GPA in major, GPA in related courses, GRE scores, response to the departmental questionnaire, letters of reference and performance in an interview conducted by faculty and current students. There are circumstances in which exceptions may be made.
Basic Criteria for Consideration
GPA of 3.0 or higher in the last 60 hours of undergraduate work and official GRE scores from ETS.

Financial Information
Click here for information about financial aid.
Assistantships
Assistantships are generally available to students who want and apply for them. They are available through the Department of Human Development and Psychological Counseling and the Division of Student Development. If you're interested in a Student Development assistantship, visit assistantships.appstate.edu.
Minority Fellowship Program
The AAMFT Research & Education Foundation ("the Foundation") has been awarded the Now is the Time: Minority Fellowship Program – Youth (NITT-MFP-Y) grant from the Substance Abuse and Mental Health Services Administration (SAMHSA). The purpose of this grant program is to reduce health disparities and improve behavioral health care outcomes for racially and ethnically diverse populations by increasing the number of culturally competent master's level behavioral health professionals serving children, adolescents, and populations in transition to adulthood (aged 16 – 25) in an effort to increase access to, and quality of, behavioral health care for this age group. Applications for master's students will be open from November 3, 2014 til January 5, 2015.
Click here for Minority Fellowship Program-Youth application
Click here for more information about the Minority Fellowship Program
Click here for more information about the funds available through SAMHSA
Licensure
The MFT Program meets educational requirements for licensure as a Marriage and Family Therapist in the state of North Carolina (see appendix E) . We have flexibility in our program of study and can often meet the needs of students from other states and nations. Faculty will consult with students on a case by case basis to discuss post licensure goals. Our program of study prepares our students with a COAMFT approved curriculum which informs them where to locate information on licensure requirements in the states of geographic region they will be practicing. Please go to AAMFT.org for more information on licensure requirements in other regions so we can assist you with degree portability.
Marriage and Family Therapy Student Testimonials
I chose the Marriage and Family Therapy field because I had already studied many individual counseling skills in another non-accredited program and wanted to study relationships and their dynamics. I had become aware that, as clients, we can all do our own individual work, and that it might be more effective to incorporate the most important people in our lives. I specifically chose Appalachian State because I liked the program and the curriculum, and was particularly intrigued by the different electives being offered. I'm very happy with my decision. I am now in my second year and am really enjoying working at my internship site. It is very satisfying to be applying what I am learning with my clients and their families. I feel very supported by all of the supervision as well. - Victoria Bulostin
I chose Marriage and Family Therapy because I wanted to work with families in person and I think helping parents build a solid foundation in their marriage will help promote better relationships for the child in the future. I specifically chose AppState because I liked the systemic perspective and the ability to choose my own theory of practice, rather than being forced to follow a specific theory, and because I wanted to live in North Carolina. - Sebastian Farmer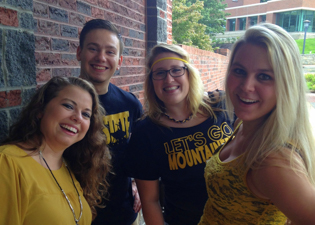 I chose the marriage and family therapy profession because of the systemic background it comes from. I could see patterns in my own family and life experiences, and the MFT systemic model fit well with how I see things. I specifically chose the program at AppState, not only for the atmosphere of the mountains but also because of the way it is structured. The classes offered are what I'm interested in, and the multicultural aspect of this program, I feel, is very important to the future of therapists. We have come to the point where no matter what, we are going to be faced with people from different backgrounds, and we need to be aware of those differences and how those impact the therapeutic relationship. The professors are helpful and care about students and their progress. - Cyndal Lowery
I chose to be a Marriage and Family therapist because I am passionate in helping individuals, couples, and families progress to live healthier, happier and more balanced lives. The field is a perfect fit in terms of my goals in life and personality. I chose the Appalachian State University Marriage and Family Therapy Program because the faculty seemed genuine during the interview. They were honest, challenging, and excited to find the next generation of MFT's. The program was the right fit and Boone felt like home. - Madison Haskell
I chose to study Marriage and Family Therapy because I wanted to work with military couples and families who face the added stress of deployment and reintegration adjustment issues. I chose to attend Appalachian State in large part due to the faculty. I enjoy the balance of both structure and encouragement to step out and explore different populations and areas of the field. I have learned a lot about myself, and the field of Marriage and Family Therapy as a whole, since being in this program. - Denzel Jones
This program not only offers exposure to a new way of thinking, a new way of viewing the world, but it also offers an opportunity to re-evaluate one's self, to test one's limits and beliefs. The evolution in thinking that takes place during the time spent in this program gives way to the emergence of a different person. - Tara Pettit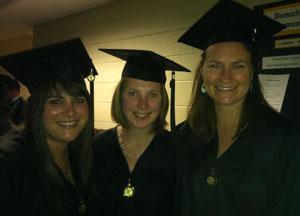 Our remarkable MFT program has opened my eyes to professional and personal development and education. The friendships and relationships I have established in this program will be life long and I know I will finish here not only a better professional, but also a better person. - Jan Stone
The MFT Program at App State taught me how to think and work systemically with my clients. It also challenged me to grow by examining how I personally affect systems and vice versa. I would give the following advice to potential applicants: if you are not ready to really see yourself and learn something, you may not be ready for this program. - Shannon Haney

Boone Attractions
Places to See
Whether you are driving the Blue Ride Parkway, visiting The Blowing Rock, or hiking your way to the Mile High Swinging Bridge at Grandfather Mountain, experiencing the breathtaking views of the Appalachian Mountains is a must while visiting the Boone area. If skiing, snow tubing, or zip lining is more your thing, resorts near Boone will have you covered. From great outdoors to shopping downtown, Boone has a variety of attractions, museums, and boutiques to keep you busy during your stay. Visit http://www.exploreboone.com/things-to-do/ for details to help plan your visit.

Places to Eat
Nestled in the Appalachian Mountains, Boone has a long list of locally owned restaurants, coffee shops, and breweries sure to satisfy even the pickiest of eaters. With Banner Elk and Blowing Rock just miles from Boone, visitors can expect a wide variety from fine dining to local café and everything in between. Visit http://www.exploreboone.com/restaurants/ for an extensive list of restaurants in the Boone area.





Places to Stay
From hotels to cabin rentals to RV and camper parks, Boone has just the place to stay to meet your traveling needs. Visit http://www.exploreboone.com/hotels-cabins/ and start planning your visit to Boone.







---
Program Overview Documents