The Marriage and Family Therapy Program at App State
AAMFT Statement on MFT Responsibility to Counter Racism
The MFT Program at Appalachian State endorses the AAMFT statement regarding our responsibility to actively counter racism. We reject systemic racism and work to counter white supremist ideologies. We continue to be reflective and commit to ongoing work to improve our accountability to inclusively train MFTs. Read the entire AAMFT Statement on MFT Responsibility to Counter Racism.
Appalachian State Response to COVID-19
The Marriage and Family Therapy program is following direction from Appalachian State and the UNC System, who are monitoring the ongoing responses to COVID-19. For updated information, please visit AppState Cornovirus Information.
For American Association for Marriage and Family Therapy (AAMFT) updates and direction for family therapists, please visit Coronavirus: AAMFT Status.
For North Carolina Association for Marriage and Family Therapy (NCAMFTE) updates and directions for family therapists in NC, please visit NCAMFT COVID-19 Information.
Commission on Accreditation for Marriage and Family Therapy (COAMFTE) updates and direction for MFT training programs, visit COAMFTE Message regarding COVID-19
MFT Open House on November 16
Interested applicants are invited to join us for a virtual open house to learn about the MFT Program. Visit with current students and faculty on November 16, 5:30pm EST. Learn more about our mission to provide systemically-oriented, ethical, inclusive, and socially-just training. Please register to receive a link to the event.
MFT Alumnus wins AAMFT Emerging Leaders Award
MFT Student Awarded 3MT People's Choice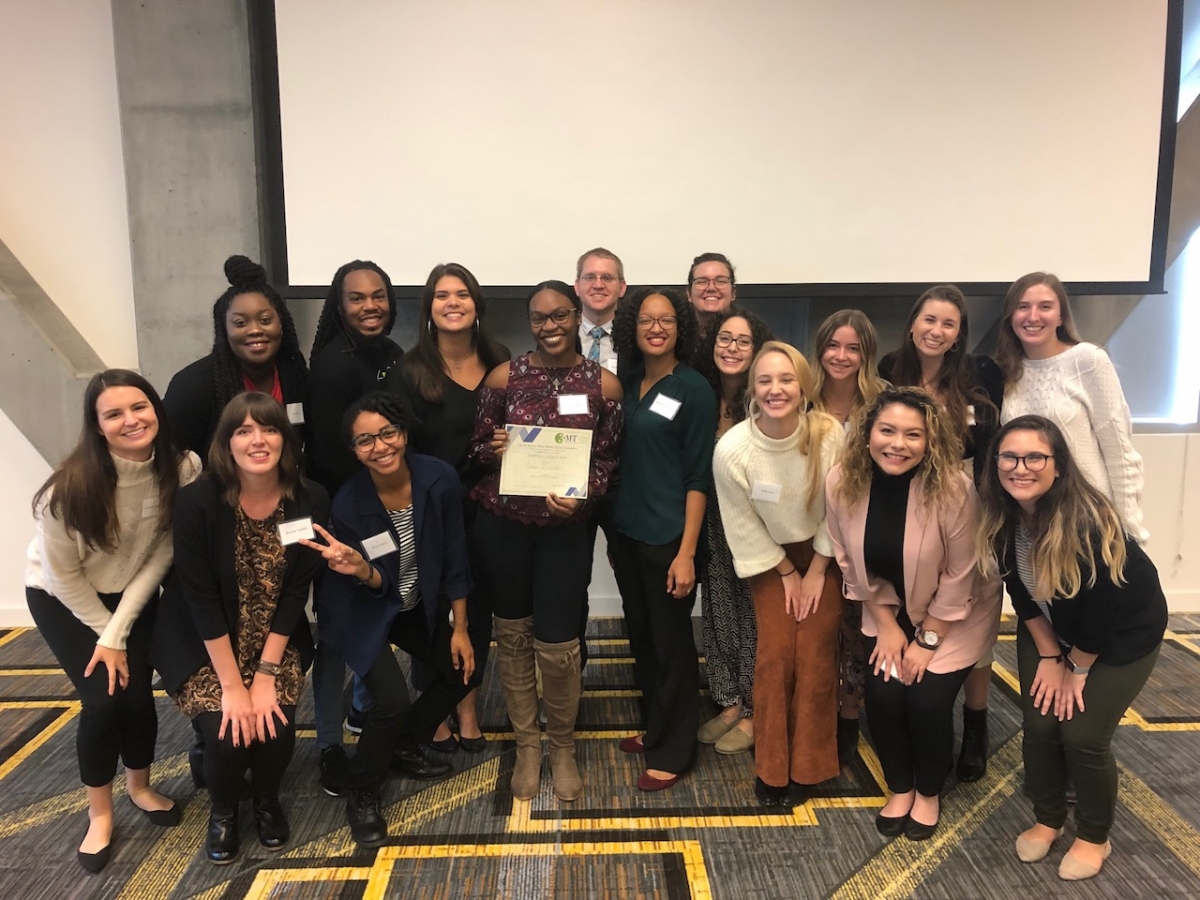 Congratuations to Imani Dillon, first year MFT student, for being awarded the People's Choice Award at the 3 Minute Thesis (3MT) competition held on October 29th. Her presentation was titled: "Is Parenting Style Related to Later Substance Abuse in Children?" Students in the Multicultural Counseling class instructed by Dr. Jordan participated in this annual event hosted by the Cratis D. Williams School of Graduate Studies.
HRSA Grant to Fund Clinical Interns
Dr. Karen Caldwell is the recipent of a HRSA grant funded by a Behavioral Health Workforce Education and Training for Professionals and Paraprofessionals grant award from the Health Resources and Services Administration (HRSA). The grant funds internship stipends, which are available to students in their internship year. The goal of the grant is to provide behavioral services to children and youth living in rural Appalachian communities and expand the number of licensed MFTs working in these underserved areas. The stipend amount provided to each recipient is $10,000 over the course of their 12 month internship.