The Marriage and Family Therapy Program at App State
MFT Students Admitted to Ph.D. Programs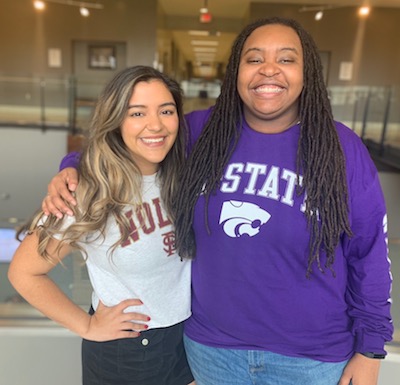 Two graduating MFT students have been admitted to Ph.D. programs starting fall 2019. Congratulations to Carmen Gray who will attend Kansas State University and to Francesca Otero-Vargas who will attend Florida State University! Gray has also been selected as a Reich College of Education graduate student speaker at commencement, held on May 10th at the App State Convocation Center. Otero-Vargas has been awarded a 2019 McKnight Doctoral Fellowship, which strives to support African American and Hispanic faculty at colleges and universities in Florida.
Faculty and Students to present at AFTA
Dr. Laura Gambrel along with students Jordan Gale and Brittany Fordham will present research titled: A Feminist Analysis of Online Parenting Programs, at the American Family Therapy Academy 2019 Annual Meeting. They will travel to Oakland, CA, in June.
MFT Students and Faculty Present at NCFR Conference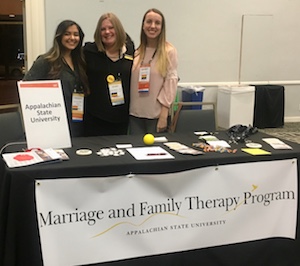 MFT students Francesca Otero-Vargas and Kathleen Smith presented with Dr. Kristen Benson at the National Council on Family Relations (NCFR) conference in San Diego, CA. Research Team Lead Otero-Vargas, research team member Smith, and Primary Investigator Dr. Benson addressed accountability practices when conducting research with transgender communities which do not reflect researchers' own identities. They presented the research design for the project titled: Personal Experiences of NC HB2 Legislative Discourse. The NCFR Conference took place November 7-10, 2018.
SAMFT Conference: Trauma-Informed Care
The Student Association for Marriage and Family Therapy (SAMFT) hosted the annual fall conference on October 5th. Featured speaker Janelle Johnson, MA, LMFT, founder of Bridges Family Life Center, PLLC, presented on Trauma-Informed Care for couples and families. Thank you to conference organizers, SAMFT Co-Presidents Francesca Otero-Vargas and Debby Vargas.
MFT Program receives HRSA Grant to Fund Clinical Interns
Internship stipends are available to students in their internship year, which are funded by a Behavioral Health Workforce Education and Training for Professionals and Paraprofessionals grant award from the Health Resources and Services Administration (HRSA). The goal of the grant is to provide behavioral services to children and youth living in rural Appalachian communities and expand the number of licensed MFTs working in these underserved areas. The stipend amount provided to each recipient is $10,000 over the course of their 12 month internship.
Social Justice in Action Fund
The Marriage and Family Therapy Social Justice in Action Fund provides assistance to financially support students from underrepresented populations
Graduate Student Government Association Leadership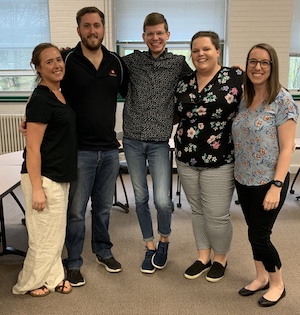 MFT students have provided campus leadership as GSGA officers. Thank you to Hunter Adams (vice-president), Daniel Swiger (treasurer), Andrew Vanden Broeke, (parliamentarian), Kenzie Mizell (HPC senator), and Kathleen Smith (president). Learn more about GSGA.
Students and Faculty attend 2019 NCAMFT Conference
Students and faculty attended the North Carolina Association for Marriage and Family Therapy (NCAMFT) conference in Cary, NC, March 28-30. Pictured are MFT students Cater Davis, A'Lyric Miles, and Kenzie Mizell.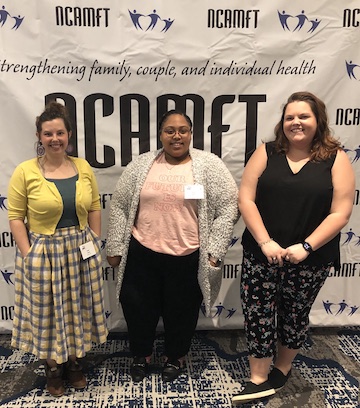 MFT Students Attend AAMFT Conference in Louisville, KY
Ten App State MFT students attended the AAMFT Conference November 16-18 in Louisville, KY. Students attended workshops and keynote talks, networked with MFTs from across the country, and some met with potential PhD program representatives.
MFT Students and Faculty meet with NC legislators
MFT students Carmen Gray and Daniel Swiger, and MFT faculty Dr. Kristen Benson attended Graduate Education Lobby Day in Raleigh, NC. The group visited with Senator Deanna Ballard, Representative Joyce Wadell, and Representative Jonathan Jordan. The Marriage and Family Therapy and Community Mental Health Counseling programs were recognized during a NC House session.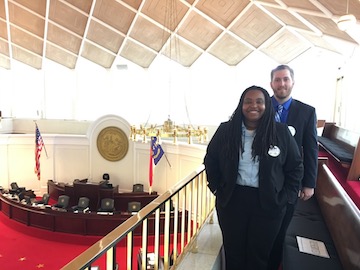 Systemic Multicultural Counseling Certificate
What is a Marriage and Family Therapist?