COAMFT Student Achievement Data *
| | | | | | |
| --- | --- | --- | --- | --- | --- |
| Year Admitted | # of students in program. | % of students who graduated | %of students who graduate in 2 years | Job Placement Rate | % Alumni whom sat for and passed national exam |
| 2005-2006 | 11 | 81% | 81% | 100% | 100% N=7 |
| 2006-2007 | 9 | 88% | 78% | 100% | 100% N=8 |
| 2007-2008 | 12 | 100% | 92% | 92% | 100% N=12 |
| 2008-2009 | 11 | 91% | 73% | 100% | 100% N=11 |
| 2009-2010 | 12 | 92% | 75% | 100% | 100% N=11 |
| 2010-2011 | 11 | 91% | 82% | 89% | 100% N=8 |
| 2011-2012 | 11 | 100% | 91% | 92% | 100% N=11 |
| 2012-2013 | 13 | 100% | 92% | 92% | 100% N=12 |
| 2013-2014 | 14 | 85% ** | 71% | 82% | 100% N=4 |
| 2014-2015 | 13 | 85% ** | 77% | 92% | 100% N=4 |
| 2015-2016 | 14 | N/A | N/A | N/A | N/A |
| 2016-2017 | 14 | 85% | 85% | N/A | N/A |

**Some students are still enrolled in the program.* All students are full time.
Alumni Spotlights
Kristen Benson
Class of 2001
I am currently an Assistant Professor of Human Development and Family Science at North Dakota State University in Fargo, N.D. I earned a B.S. from Florida State in Family, Child and Consumer Science before coming to Appalachian State University to earn my M.A. from the Department of Human Development and Psychological Counseling in Marriage and Family Therapy (Class of 2001). While at App State, I completed an internship at the Wake Forest University Baptist Hospital before heading to work on my Ph.D. at Virginia Tech in Human Development with an emphasis in Marriage and Family Therapy. I then headed to Texas for an internship at the Houston Galveston Institute. I am now a licensed marriage and family therapist, AAMFT Approved Supervisor, and Certified Family Life Educator. My time at App State introduced me to the American Association for Marriage and Family Therapy as a student member, and 15 years later I am a clinical fellow and chair of the Queer Affirmative Caucus. I am also a member of the National Council on Family Relations where I co-chair the Sexuality Focus Group and am active in the Family Therapy section and Feminism and Family Studies section. In my role as a core faculty member in the NDSU Couple and Family Therapy program, I teach graduate courses on CFT theory and ethics, and supervise student trainees at the NDSU Family Therapy Center. My research and clinical focus is on sexuality and providing inclusive therapy to Lesbian, Gay, Bisexual, Transgender, Queer (LGBTQ) people and relationships, which has allowed me to published and present regionally and nationally. My current research explores the experiences of parents raising transgender and gender creative children, which I hope will help therapists to compassionately understand the needs of this population. I also maintain a small private practice. In my free time, I am working to fit in as a Midwest transplant, as I grew up on the East coast and tend to surprise people when I tell them what a wonderful community Fargo is!

Rachel Hughes
Class of 2014

Currently, I'm in my first year in Saint Louis University's Medical Family Therapy Ph.D. program where I'm learning how to incorporate systemic therapy into a medical setting and collaborate with health care practitioners to provide comprehensive treatment to patients. As a research assistant, I'm studying the relationship between relationship satisfaction and attachment styles. In my personal research, I'm working to incorporate short-term filial play therapy into a medical setting with chronically ill children to increase family resilience. Clinically, I'm a Provisionally Licensed Marriage and Family Therapist at the Center for Counseling and Family Therapy where I work with a hugely diverse population of Saint Louis.
The Appalachian Marriage and Family Therapy program prepared me for my current clinical practice and research through challenging me intellectually and personally. My small and close cohort allowed me to collaborate with like-minded individuals and feel supported by my peers. I am so thankful for the program's effect on my professional pursuits and my life.

Courtney Kellerman
Class of 2014
Appalachian's Marriage and Family Therapy Program was one of the greatest experiences I have been fortunate enough to have. The program as a whole provided me with the ability to collaborate and learn from my peers and faculty. It provided me with a depth of systemic knowledge and a greater understanding of the impacts within the system and how change can occur. The program helped to prepare me both academically as well as clinically. It challenged me in many ways which facilitated my growth as person, in my relationships, and as a therapist. The program provided me with a scope of knowledge that I am grateful for each and every day.
I am currently working in Northern Virginia as a Therapeutic Day Treatment Specialist. I work in the school system and provide intensive therapeutic services to children and families who struggle with emotional, behavioral, and familial issues and are in danger of being placed out of their homes. I am constantly thankful for Appalachian's program as well as the lifelong connections with my cohort and faculty. As I continue to embark on my journey as a novel therapist and explore different avenues and passions, the foundation the program provided for me will continue to shape my systemic understanding. I recently received my Associate License in North Carolina and am currently working towards obtaining my LMFT in both North Carolina and Virginia.

Greta Mikus
Class of 2014
During my second year at Appalachian State University's Marriage and Family Therapy Program, I began my internship at Daymark Recovery Services in Ashe County providing therapy to individuals in the community who could not afford mental health services. Towards the end of my internship, I was offered a full-time position at my internship site once my degree and license was confirmed. After obtaining my associates license in September of 2014, I began working for Daymark, mainly catering to children and adolescents in the surrounding area. I am presently developing an Adolescent Dialectical Behavioral Therapy group and Adolescent Substance Abuse group, which I hope to implement in the near future.

Jordan Montgomery
Class of 2014
I am currently working towards my PhD in marriage and family therapy at Florida State University. I am studying under the direction of Dr. Lenore McWey, and my specific research interests currently focus on the racial identity development of youth, foster care, and adopted children in transracial families; and therapeutic interventions for at risk families. I also work with families, couples, and individuals as a Marriage and Family Therapy Intern at the Couple and Family Therapy Center at Florida State University.
I learned so much throughout my time at Appalachian State in the Marriage and Family Therapy Program. Specifically, in depth systemic thinking about family dynamics and process, societal privilege and oppression, and awareness of myself. I am so grateful for everything I learned and for how much I grew because it has helped lead me to my dream of pursuing a doctorate degree. I may be biased, but I highly recommend Appalachian State University's Marriage and Family Therapy program if you want to grow, be challenged, and learn about yourself.


Allison Rayburn
Class of 2013

I am currently enjoying my first year at Florida State University in their Marriage and Family Therapy Doctoral Program. My research interests are creative interventions for at-risk children and families who have experienced trauma. I have the privilege of studying with Dr. Lenore McWey, and as a doctoral student, I have a variety of opportunities to learn in class, as a teaching assistant, on a research team, and through practice as a clinical intern at the University's Couple and Family Center.
Appalachian's Marriage and Family Therapy Program prepared me academically, clinically, and professionally for the challenges and exciting new experiences at the doctoral level. But most importantly, I had opportunities and the support from my professors to grow and follow my passions that specifically met my individual desires and needs to be the therapist I wanted to be. Each day I am reminded of how my experience at Appalachian was a true gift that I will be forever grateful for as it has helped me get to where I am and will continue to contribute to my future.

Erin Steele
Class of 2009
As a 2009 graduate of Appalachian State University's Marriage and Family Therapy Program, I became fully licensed the summer of 2012, but have been working in mental health in some capacity since 2010. I hold a bachelor's degree in Psychology and Spanish from Winston-Salem State University. Currently, I am a bilingual outpatient therapist at Family NET Of Catawba County, providing services to children, adolescents and families. I am rostered with the North Carolina Child Treatment Center to provide Trauma-Focused Cognitive Behavioral Therapy (TF-CBT). I am a Licensed Clinical Addictions Specialist Associate, working towards a LCAS. I am certified to conduct a GAIN Interview as well as to administer the SASSI. Recently I spoke on a panel to current undergraduates about how to best utilize their time in college and what they can do with their degree once they graduate. Having an interest in race relations, I was given the opportunity to be panelist member discussing "Colorism" earlier this year. I am a member of Delta Sigma Theta Sorority, INC and enjoy participating in outreach programs and community service events provided through the organization.

Nick Todd
Class of 2013
I graduated from Appalachian State University in August of 2013 from the Marriage and Family Therapy MA program with a Certificate in Addictions Counseling. Soon after graduation, I landed a job working as a Human Services Clinician at Daymark Recovery Services with the Substance Abuse Intensive Outpatient Program. I am currently working towards obtaining dual licensure as a Licensed Marriage and Family Therapist (LMFT) and Licensed Clinical Addiction Specialist (LCAS), I hold an associate license in both right now. I regularly work with individuals, couples, families, and groups toward the goal of avoiding the use of mind-altering substances, building adaptive coping strategies, and creating support networks to improve overall functioning (mental, emotional, and relational).

Marlena Wilson
Class of 2013
After I graduated from the Marriage and Family Therapy Master's Program at Appalachian State University, I moved to Knoxville, TN. I was in search of meaningful work that would help me utilize the theories and skills I learned in graduate school. I took a job working at Norris Academy, a residential facility for children with developmental/psychological disabilities, as a direct care staff member. As much as I enjoyed working with these young people, I could not use the work I did as clinical hours for a state MFT license. So, I began searching for another job and got hired at a women's residential addiction treatment center/halfway house called Agape, Inc in Knoxville. I worked there as a substance abuse counselor and got real life, hands-on experience with the world of addiction. I held individual sessions as well as group therapy sessions throughout the week. I was able to teach a family education class as well. I loved meeting the families of the clients and helping them not only set boundaries, but also include self-care into their daily lives. During my time there I was able to incorporate the systemic teachings of MFT and traditional 12 step program ideologies.
I am going to start a new position as an in-home counselor for foster children at Camelot Care Center in Oak Ridge, TN. I will be using integrative models/theories of therapy in order to aid these young people in succeeding in school and their family systems. I am currently working with a clinical supervisor and am on my way to obtaining a license. It is my wish to continue my studies at the doctoral level and create therapeutic programs specifically in the multicultural arena.

Joan Zimmerman
Class of 2003

Until two years ago, I worked in a unique family-focused SA treatment program in community mental health. Since then, I have been full time in private practice. My client population is varied and includes individuals, couples, and families. I have developed a focus on working with people with trauma, and I have been trained in the Trauma Resiliency Model and EMDR. I have integrated the use of expressive arts and sand tray techniques with many of my clients. One morning a week, I volunteer at the Community Care Clinic, and am one of a number of therapists who provide free therapy for CCC patients. I am an AAMFT Approved Supervisor, currently providing supervision to Appalachian State MFT students and other students within the HPC Department, as well as LMFTAs in the community. I am an Adjunct Professor in the HPC Department at Appalachian State University.
I am chair of the Community Substance Abuse Treatment Collaborative, and coordinate a local group of independent therapists, the High Country Behavioral Health Coalition. In collaboration with Dr. Jon Winek, I have published Group Activities For Families In Recovery (2013), which is available to purchase on Amazon.com. In 2013, I was honored to receive the 'Distinguished Service to Families' award through NCAMFT.

Selected Publications and Presentations with Marriage and Family Therapy Program Faculty and Appalachian State Students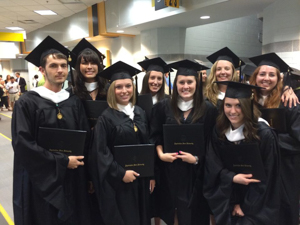 Benson, K. & Winek, J. (2001, March) Angry families: Anger management in family therapy. Presented at the North Carolina Association for Marriage and Family Therapy's Annual Conference.
Caldwell, K., Brinko, K., Kwiatkowski, J., Krenz, R., & Townsend, K. (2007), Intellectually and developmentally disabled individuals: Educators in expressive arts therapy. Poster Presented at the International Expressive Arts Therapy Conference.
Caldwell, K., Senter, K., & Hertzberg, A. (2003, March). Spirituality and change: Reflecting on the experiences of battered women. Appalachian State University. Women's Leadership Conference.
Jordan, N. A., Russell, L., Afousi, E., Tasha, C., McVicker, M., Robertson, J. & Winek, J. L. (2013). The ethical use of social media in marriage and family therapy: Recommendations and future directions. The Family journal: Counseling and Therapy for Couples and Families, 22(1), 105-112. doi: 10.1177/1066480713505064.
Jordan, N., Winek, J. L., & Russell, L. (2012, March). The ethical use of social media in the practice of family therapy. Presented at The North Carolina American Association of Marriage and Family Therapists Conference.
Miller, G., Winek, J., Zimmerman, J., Christenbery, S., Wilkerson, T., & Gardner, J. (2008, November). Substance abuse dynamics in the family: Methamphetamine treatment focus. Workshop presented at the North Carolina Family- Based Services Association.
Winek, J., & Craven, P. (2005). The coming clean ritual. In Hertlein, K., & Viers, D. (Eds.), The couple and family therapist's notebook: Homework, handouts, and activities for use in psychotherapy (pp. 49-55). New York: Haworth Press.
Winek, J., Johnson, L., Wiley, K., Shaw, L., Lambert- Shute, J., & Krepps, J. (2000, January). Moments of movement in filial therapy: A case study. Paper presented at the Conference on Qualitative Research in Education.
Zimmerman, M. J., & Winek, J. L. (2013). Group activities for families in Recovery. Thousand Oaks, CA: Sage Publications.