Appalachian State Diversity Statement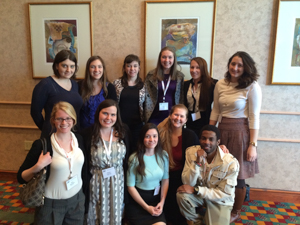 Diversity is inclusive, not exclusive. It embraces difference and advances knowledge of race, ethnicity, gender, sexual orientation, socio-economic class, age, geographic location, national origin, religious beliefs, veteran status, and physical abilities.
Embracing diversity is central to the pursuit of excellence at Appalachian State University. In striving to develop an institutional culture that deepens an understanding of diverse people and their myriad ways of being, knowing, and learning, it is vital that the university offer academic programs and co-curricular activities that prepare students for active, global citizenship. Further, Appalachian has the responsibility to model equitable practices and foster a multiplicity of ideas, talents, cultures, experiences, backgrounds, values and perspectives that contribute to the growth of all members of the greater community.
Students learn best in diverse educational environments, and central to the depth and quality of intellectual life at Appalachian is recruiting and retaining a diverse faculty. A diverse faculty attracts a diverse student body, thus enriching all learning, working, and social interactions and preparing students to thrive in an increasingly diverse world.
Through concerted efforts, Appalachian has made notable strides in diversifying our student body, as well as our faculty and staff. However, in order to be a leader in the region and in the world, we must continue to devote our energies to expand and ensure safe, equitable environments for all members of the community, particularly those who have been historically underrepresented or marginalized.
The Marriage and Family Therapy Program Diversity Statement
The Marriage and Family Therapy program is housed in the Department of Human Development and Psychological Counseling. The department has a history of supporting a multicultural perspective. Program faculty members make a strong effort to recruit a diverse student population and teach from a multicultural viewpoint. As a result, the department has adopted the following policy statement.
In the Marriage and Family Therapy program, we as faculty and students strongly abide by and support the ASU diversity statement. This program and its' faculty strive to prepare students to practice from a multicultural perspective. We consist of varying backgrounds including age, race, culture, ideas, abilities, and spirituality. Respecting each other's uniqueness aids us in developing a deeper understanding of systems.
Diversity of Marriage and Family Therapy Students
Ethnic Group

Appalachian State Graduate School

N=1794

Marriage and Family Therapy Program

N=31

African American
N=97 (5%)
N=8 (25%)
Hispanic
N=70 (4%)
N=3 (10%)
White not of Hispanic Origin
N=1,517(90%)
N=20(65%)
Native American
N=8 (.4%)
N=0 (0%)
Asian
N=17 (.9%)
N=0 (0%)
Diversity of Faculty and Supervisors
| | |
| --- | --- |
| Ethnic Group | |
| African American | 1 |
| White | 4 |
| Gender | |
| Identified Men | 3 |
| Identified Women | 2 |