SAMFT Annual Fall Conference
Intersectionality in Therapies: Personal Experiences of a Black Queer Femme Therapist
Join us for conversation and learning while supporting the App State Student Association for Marriage and Family Therapy.
Friday, November 8th
Appalachian State University, Reich College of Education, Room 127.
Registration: 11:45am
Workshop: 12:15-5pm
Light lunch included with registration.
This event is open to the public.
Register for the SAMFT Conference: samft2010@gmail.com with subject line: RSVP 2019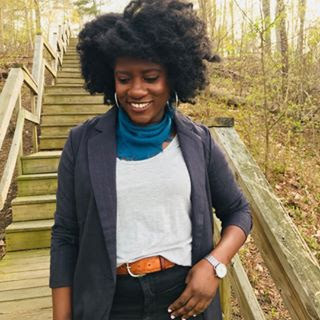 Featured Speaker: Adrienne Michelle, LMFT
Adrienne Michelle Marriage and Family Therapist who works primarily with LGBTQ+ or QTPOC individuals, couples, and families to help them build and better their lives and relationships. As one of very few queer, black, femme, therapists she is focused on happiness and authenticity of self. She received a Master's of Marriage and Family Therapy degree with a specialization in Sex Therapy from Thomas Jefferson University.
Learn more about Adrienne Michelle
This workshop will focus on how intersectionality of both therapist and client impacts the therapeutic process.
Learning Objectives
Understand and define intersectionality and understand its usefulness with self and clients.
Understand and learn how to modify interventions based on understanding identities.
Use inclusive language to become more diverse and inclusive in practice.
Review case studies of clients and interventions and learn how to better support clients with a myriad of intersecting identities.
Pricing & Payment
Students: $10
Provisionally Licensed Professionals: $25
Licensed Professionals: $40
Additional $10 for NBCC Clock Hours (4.25 Contact Hours)
Cash & checks can be mailed out to: Appalachian State University, HPC Department, College of Education, Attn: SAMFT, 151 College Street, Room 304 Boone, NC 28607
Payment will be accepted at the door. Please email samft2010@gmail.com to RSVP.
CEU Information
4.25 CEU credits are available for licensed providers.
The Department of Human Development and Psychological Counseling has been approved by NBCC as an Approved Continuing Education Provider, ACEP No. 3001. Programs that do not qualify for NBCC credit are clearly identified. The Department of Human Development and Psychological Counseling is solely responsible for all aspects of the programs.
Parking
The Rivers Street parking deck is $10 a day for visitors. The facility is located on Rivers Street between Katherine Harper Hall and Garwood Hall. Look for the pedestrian bridge over the street, as it is a part of the parking deck. The Rivers Street Parking Deck is an approximately 10 minute walk to the Reich College of Education. View Walking Map
Short-term metered parking is available in downtown Boone.




This project is supported by the Health Resource and Service Administration (HRSA) of the U. S. Department of Health and Human Services (HHS) as part of an award totaling $433,381 with zero percent funded by non-governmental sources. The contents are those of the authors and do not necessarily represent the official views of nor an endorsement by HRSA, HHS, or the U. S. Government.